With over 30 years in the business of making beautiful wine, Rock Ferry's vineyards are organic and sustainably managed by a team that cares about great wine.
THE CORNERS VINEYARD - Marlborough
Named after the bend in the road that follows an old river channel, the Corners Vineyard has 13-hectares under vine located in the heart of the Wairau plains.  It is also home to our cellar door and studio facility.

The soil profile is silt overlying free-draining alluvial stones and gravel typical of the sub-region.  This site was fully certified organic from our 2009 vintage. Varietals planted include Cabernet Franc, Chardonnay, Gruner Veltliner, Nebbiolo, Pinot Blanc, Pinot Gris, Riesling, and Sauvignon Blanc.   
Orchard Vineyard & Winery - Marlborough
So called as it was regarded as the most suitable fruit growing area after WWII. This 9-hectare piece of land was purchased in 2007. Left fallow for 18 months, it was developed organically from the get-go, achieving full organic status in 2011.

The soil profile is alluvial silts with stony ridges and is planted in Pinot Blanc, Pinot Gris, Pinot Noir, and Sauvignon Blanc. It is also where our winery is located.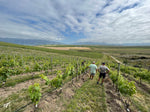 Trig Hill Vineyard - Central Otago
The name refers to an old survey site set up on Bendigo Sheep Station in the late 1880's. Trig Hill Vineyard was developed in 2003 and has 19-hectares under vine. The site is north-facing and has a variety of slopes and elevations creating a range of microclimates. The soil profile consists of silt overlaying clay, lime, and schist fragments, growing mainly Pinot Noir fruit with some Chardonnay, Pinot Gris, and Tempranillo.

The fruit for our flagship Mid Hill Pinot Noir follows the adage that the greatest wines are grown in the 'middle' of the 'hill' where the soils and aspect are ideally balanced, hence the grapes for this Pinot Noir come from our Mid and Hill Blocks, on Trig Hill Vineyard.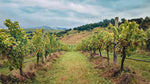 Brookby Springs Vineyard - Marlborough
Purchased as an established organic vineyard in late 2020, Brookby Springs is so named for its location in Brookby Road in the Southern Valleys sub-region and the natural freshwater that springs from adjacent hillsides. The 18-hectares are planted with Chardonnay, Pinot Noir, and Sauvignon Blanc.

The soil profile is silt loam overlying clay, an ideal profile for providing texture and body to the wines it produces.